Schmitt's Dispensary
(1888)
Sensenbrenner Building
(1920)
951 Fourth Avenue
Architect : Quayle Brothers
Architectural Style : Elements of Victorian Commercial
Like most sites in the Gaslamp , the Schmitt/Sensenbrenner Building lot had its origin in a sale from Alonzo Horton to John B. Boyd in 1872. And – like most historic sites and buildings, it had a plethora of venues housed therein, before establishing its ultimate name and identity. The property and the two-story wooden structure on it was the subject of a variety of exchanges between Boyd and several gentlemen, and was ultimately sold by Boyd to Dr. George H. Schmitt in 1888.
Dr. Schmitt hired P.J. McCormack as the principal contractor and Aime Pare as the architect for the construction of his new offices. The ornate three-story structure was in the Victorian commercial style with a gabled roof, large plate glass windows, and a recessed entrance. It was decorated with statues and an ornate coat of arms. The building was completed in late August of 1888, and was known as the Dr. Schmitt Dispensary.
Dr. Schmitt advertised himself as practicing general medicine, surgery, obstetrics and gynecology. In connection with his private practice, he also conducted a free clinic for the poor. His methods included traditional medical practice, as well as what was then considered exotic ancient remedies and methods. These might have included what is now known as alternative medicine, such as acupuncture, massage, ayurveda, homeopathy and meditation.
Unfortunately, by 1894 Dr. Schmitt's finances were in a precarious position, and his dispensary and lot were sold to satisfy judgements against him. The building was then used as a lodging house, an Officer's Club, a billiards hall, a barber shop and an athletic club.
In 1908, the property was purchased by August Sensenbrenner. Mr. Sensenbrenner, a pioneer businessman in San Diego, founded the firm of A. Sensenbrenner and Sons, cigar makers and jobbers (wholesalers). This became one of the largest enterprises of its kind on the Pacific Coast. Mr. Sensenbrenner was an immigrant from Lahr, Germany, where he learned his trade working as an apprentice in a cigar factory. Upon his arrival in California he settled in San Francisco, but moved to San Diego in 1887, as he recognized the commercial advantages and was attracted to the marvelous climate.
He started with a one man plant, and continued to build his business, which became known to tobacco merchants, cigar manufacturers and smokers throughout the Southwest. Most cigars made in San Diego used local tobacco grown in Mission Valley, Sweetwater Valley and Tia Juana (Tijuana), but Sensenbrenner imported his tobacco from Cuba and Sumatra. His personal label was Home Industry, but he additionally produced the popular Cabrillo, Emblem and Santa Fe labels.This proved quite lucrative, as according to a San Diego Union poll, cigar consumption in San Diego alone averaged 6,000 per day. He, additionally, exported his wares to the East coast. Mr. Sensenbrenner claimed that he produced over one million cigars yearly. At the Panama-California Exposition in 1915, he earned the coveted Gold Medal, as well as the Grand Prize from the Jury of Awards for the quality and workmanship of his product. Sensenbrenner's business lasted more than four decades. He passed away in 1918 at the age of 63, leaving his two sons, August, Jr. and Louis to carry on the business with constant reference to the ideals of their honored father. He is buried at Greenwood Memorial Park.
After their father's will was probated and settled, the sons contracted Arthur E. Keyes to construct a new building, designed by the Quayle brothers, on the site. It was completed in 1920. This is the structure now named the Sensenbrenner Building in historical references. It still remains in practically its original form with the exception being the roof, which was originally gabled, but is now flat with a decorative cornice.
The three-story commercial styled structure is a stucco over brick building with a basement, and white and green tile finishing the symmetrical facade. The main entrance is centered and recessed with evenly spaced windows on the second and third floors. The windows are double-hung sash style and accented by short horizontal opaque windows above each one. Metal fire escapes are placed in front of all the windows. There is a small balcony centered on the second floor.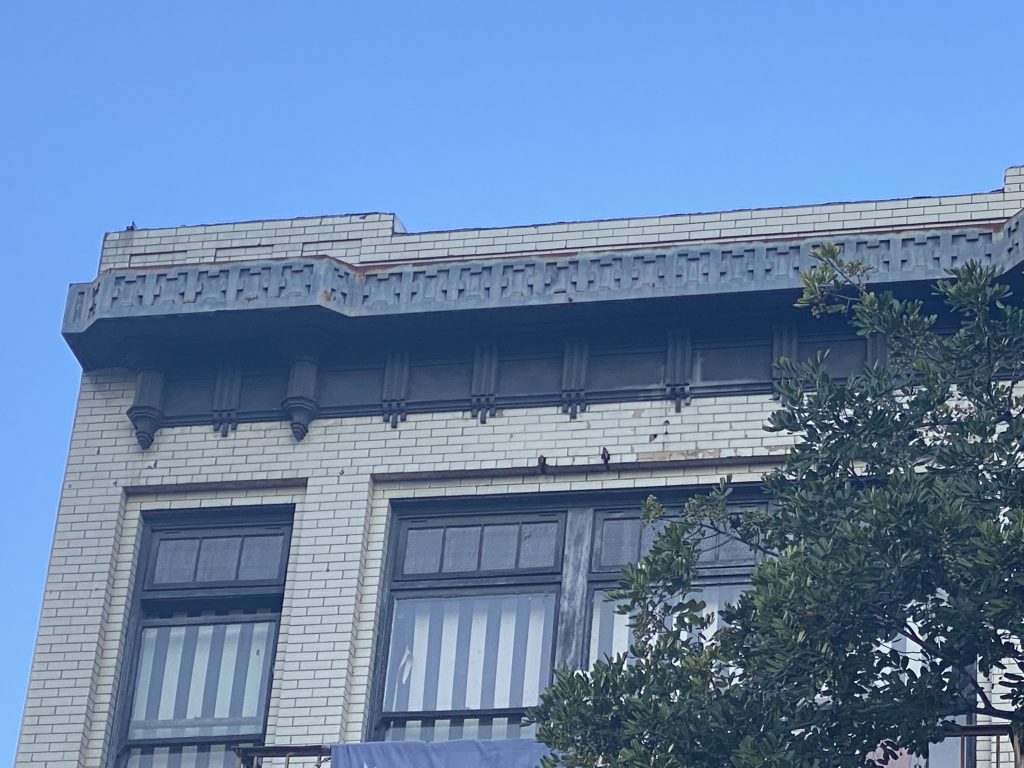 The brothers maintained the cigar business at this location until 1929, and maintained the property until 1937. At this time, it was sold to the Braun family, who kept it until 1966. Various businesses traded there, including restaurants, a tailor and a doctor. The cigar business contin-ued at another location, and in 1957 finally merged with an enterprise in Detroit, Michigan. The only remaining son, Louis, wanted to retire, and ultimately died in 1962.
By 1979, Palace Pawnbrokers had arrived, and has maintained busi-ness in the Sensenbrenner Building ever since. They are known for their friendly, courteous and excellent customer service.
Sandee is the Historian/Lead Tour Guide for the Gaslamp Quarter Historical Foundation. She can be reached at [email protected].