The Gaslamp Quarter Land Use & Planning (LUP) Committee
The Historic Gaslamp Quarter is a nationally recognized historic district whose groundbreaking method of preservation through adaptive reuse has created the thriving dining, entertainment, residential and retail area you see today. Beyond the unique businesses, dazzling nightclubs, wide variety of restaurants and residences, is the essential historic architectural character that is quite literally the framework upon which our neighborhood has built its success.
This Gaslamp Quarter's Land Use & Planning Committee (LUP) was established over two decades ago to help the businesses and property owners take advantage of our rich historical fabric to enhance their brand. This important committee is administered by the Gaslamp Quarter Historical Foundation (GQHF), a 33-year-old nonprofit organization specifically created to preserve the architecture, culture and history of the historic Gaslamp Quarter. The LUP Committee is vital to that mission as LUP also strives to protect the integrity of the Gaslamp Quarter as a National Historic District.
LUP acts in an advisory capacity to Civic San Diego and the City of San Diego in its review of facade, signage awning, sidewalk cafe, tenant improvements, and storefront modifications, as outlined by the Gaslamp Quarter Planned District Ordinance and Design Guidelines (https://civicsd.com/departments/planning/planning-regulatory-documents/ — Scroll down the page to the section that reads " Gaslamp Quarter Planned District Ordinance").The LUP Committee meets each month, and the meeting is open to the public, although only GQHF members who have been elected to the LUP Committee may vote on projects. The GQHF welcomes comments from the public on any items on the meeting agenda. Meetings are held at the Horton Grand Hotel on the second Tuesday of every month at 3:30 p.m., unless otherwise noted.
So You Have a Project
If you own or represent a new business looking to create a memorable street-front impression, or if you own or represent an existing business needing to update your existing storefront, we encourage you to contact us before you expend any precious resources.
Catalina Preskill, GQHF LUP Facilitator, or Marsha Sewell of Sewell & Associates, chair of the LUP Committee, are available to help you get started. We will answer your questions and guide you through the exciting process of being a stakeholder in San Diego's nationally designated historic district, The Gaslamp Quarter!
Gaslamp Quarter Stakeholder Steps
Though very few projects are the same, there is an established route to follow as you navigate the permitting process. The Gaslamp Quarter Historical Foundation is committed to making your journey through the design review process as smooth and simple as possible. Toward that end, we recommend that you follow these easy steps:
1) Review the Gaslamp Quarter Planned District Ordinance and Design Guidelines (http://civicsd.com/planning/regulatory-documents.html )— Scroll down the page to the section that reads "Gaslamp Quarter Planned District Ordinance"). If you don't have internet access, the GQHF can prepare a copy of the multi-page document for a nominal fee, with advance 48-hour notice. You can reach us 619-233-4692 or via email:[email protected]. We are located at 410 Island Avenue, San Diego, CA 92111, in the historic Horton-Davis House, "the little yellow house in the park."
2) Contact Catalina Preskill at the Gaslamp Quarter Historical Foundation: [email protected] or 619-795-7000, with questions and requests for guidance.
3) Submit your initial designs to the LUP Committee's Gaslamp Quarter Design Review Subcommittee via GQHF or LUP Chair Marsha Sewell: [email protected].
4) Attend and present your project at a regularly scheduled LUP Committee meeting for feedback, collaboration, and community endorsement.
5) Submit your Gaslamp Quarter Endorsed storefront design proposal for permitting to Civic San Diego
Good luck, welcome, and thanks for being part of the amazing Gaslamp Quarter!
KEY DO'S & DON'TS FROM THE GUIDELINES
The summary below does not alleviate the need for you or your Design Professional to review the governing documents in their entirety – the Gaslamp Quarter (GQ) Planned District Ordinance (PDO) and Design Guidelines http://civicsd.com/planning/regulatory-documents.html
If new building or addition, review PDO and Design Guidelines in their entirety – this summary does not address. Design Guidelines apply to the exterior appearance of all buildings in the Gaslamp Quarter. Particular attention is directed to the "Street Wall", which is critical to the scale, density, and visual interest that make the Gaslamp Quarter such an appealing place to be. All buildings 45 years of age or older must be reviewed by the City of San Diego's Historic Resource Board to determine if they are historic. Any changes proposed to a building built 45 years ago or more must be evaluated to prevent loss of potential historic structures.
www.gaslampfoundation.org/signage
www.gaslampfoundation.org/facades 
www.gaslampfoundation.org/paint
www.gaslampfoundation.org/awnings-and-canopies
www.gaslampfoundation/public-right-of-way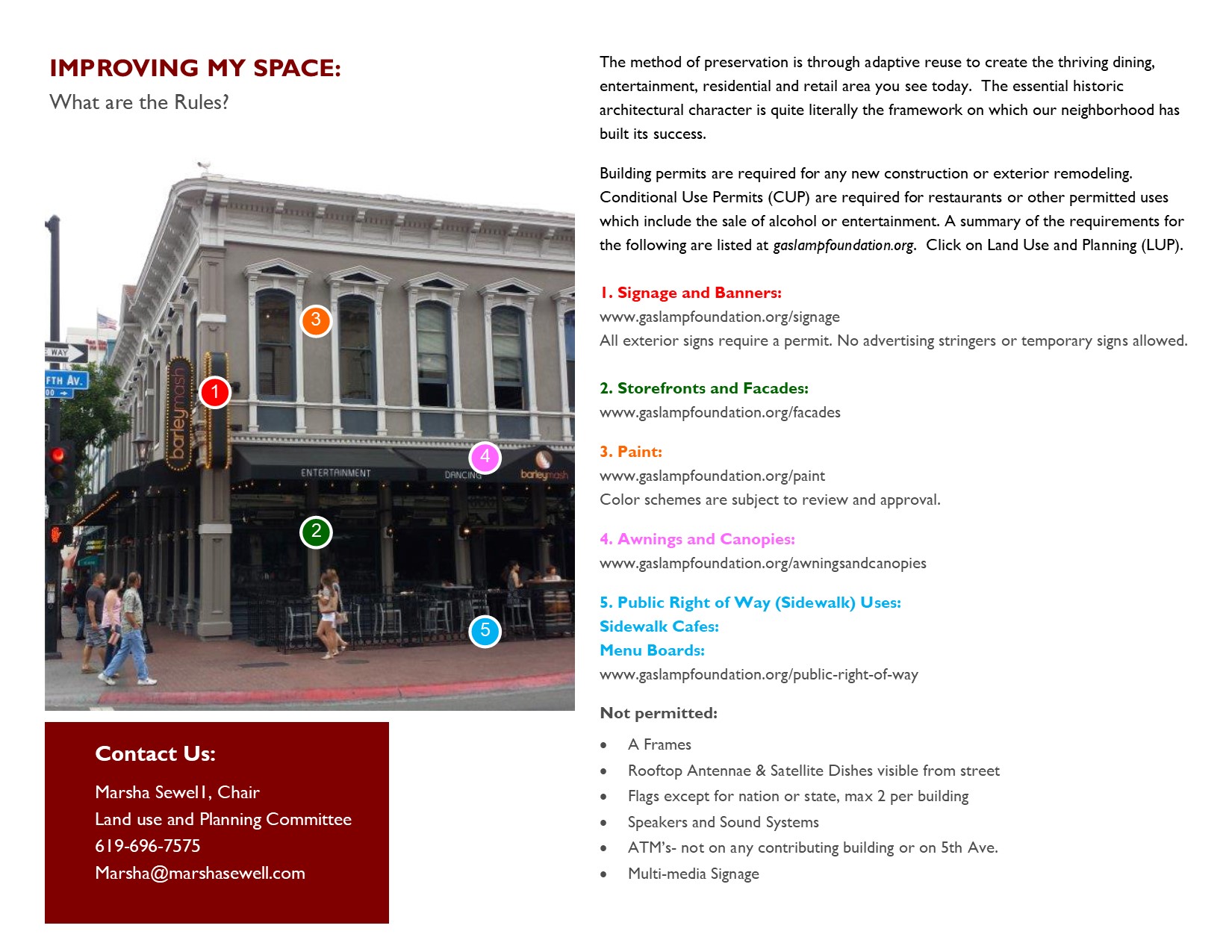 Get Involved in Your Historic Community
Any Gaslamp area business, Property Owner and/or Downtown Resident, with GQHF membership in good standing, is eligible for nomination to the LUP Committee. Consider getting involved by starting to attend the LUP Committee meetings. Please contact Catalina Preskill at the Gaslamp Quarter Historical Foundation: [email protected] or 619-795-7000, for more information.