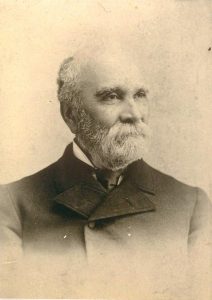 William Heath Davis was born in 1822 in Hawaii. In 1838, at the age of 17, William left Hawaii to live with his uncle Nathan Spear, in Yerba Buena, a quickly growing city in California now known as San Francisco. By 1839, William was known to the locals as an adventurer, spending his free time exploring the vast wilderness of the Sacramento Valley. Because of his familiarity with the wilderness, William was chosen as the wilderness guide to lead John Sutter up the river to Sacramento, where Sutter's men eventually discovered the gold which ushered in the gold rush of 1849.
In the 1840's, Davis left his uncle's employ as a storekeeper to start his own shipping business, becoming what was called a supercargo. A supercargo was the person responsible for managing and selling a ship's cargo. Additionally, he struck it rich not by discovering gold, but by selling supplies and land to those who came to California for the gold rush. Eventually, Davis became a San Francisco Town Council Member, and by the time he was 28 years old, was one of the wealthiest men in California.
William's wife, Maria de Jesus Estudillo, was also wealthy, and her uncle, Jose Antonio Estudillo, owned the Casa de Estudillo, which still stands in San Diego's Old Town Historic Park. After visiting San Diego with his wife, William became interested in a plan to create a new city closer to San Diego Bay. William and his partners thought it made more sense to place the city near the water so that people could be closer to the trade route and the ships that docked in the bay.
The land near the bay was barren; there were no trees to use to build houses. To set up his bayside town, William purchased a shipment of pre-fabricated houses from Portland, Maine and had them shipped around Cape Horn aboard the ship Cybelle. This bayside town would be called "New Town." New Town included a wharf, store, park, military barracks and several houses. The park, called Pantoja Park, can still be seen on F Street. Unfortunately, there was no potable water near the settlement and not many people wanted to move to New Town. After a huge fire in San Francisco destroyed most of Davis' fortune, William gave up his dream to begin a great city near San Diego Bay.
In 1867, Alonzo Horton arrived in San Diego and completed Davis' vision of New Town by the bay. To this day it is Horton, not Davis, who is known as the Father of San Diego.
William Heath Davis died penniless in 1909 at the age of 87 while living with his daughter in Hayward, California. Even to the end, he stoutly claimed that he was the true founder of New San Diego, not Horton. Unfortunately, circumstances did not permit him to receive full credit for his efforts.
However, to this day, a street in downtown San Francisco still bears his name, and the oldest house in New San Diego (now known as the Gaslamp Quarter), the Davis-Horton House, still stands as testament to his efforts.