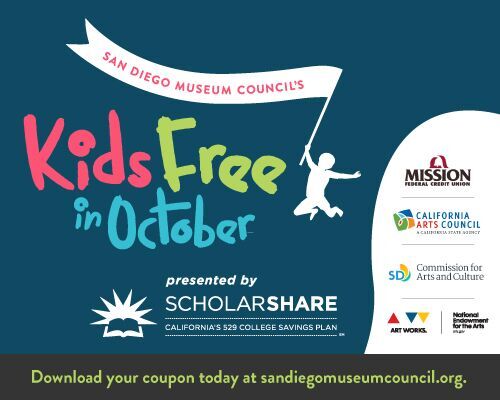 The Gaslamp Museum at the Davis-Horton House is proud to take part in Kid's Free month!!!
This October, the San Diego Museum Council (SDMC) and ScholarShare present Kids Free in October, which provides San Diegans and tourists alike the opportunity to visit more museum destinations than ever before. In its seventh year, this annual program provides free admission for kids 12 and under at 43 art, cultural, and science museums in San Diego County.
Kids Free in October is an opportunity for thousands of families to enjoy museum experiences each year—nearly 20,000 kids participated in the program in 2016. From learning about dinosaurs and military heroes to astronauts and artists, kids get to explore cultural destinations and attractions across the county. Families may be surprised to learn how many museums are located across the San Diego region—from the California Surf Museum in Oceanside down to the Living Coast Discovery Center in Chula Vista.
Free admission is available for up to two kids for every adult ticket purchase. To participate, download the Kids Free in October coupon. Simply present the coupon at the participating museum's admissions desk.
Visit https://www.sandiegomuseumcouncil.org/ to see the full list of participating museums and download a free coupon!
Save the date for the Kids Free in October kick-off event, Museum Mash Up, on Sunday, October 1 from 10 AM – 1 PM at The New Children's Museum Park. More than 10 museums will be on-site offering hands-on activities, entertainment, and more. Enjoy performances by the San Diego Symphony, the Water Conservation Garden's Ms. Smartyplants, and a drumline from the Museum of Making Music. Plus, we will have Kids Free coupons at the event that you can use to go explore The New Children's Museum while you are there. A win, win!
Mission Federal Credit Union also sponsors Kids Free in October, in part. Families can pick up a printed Kids Free in October coupon at any of their branch locations throughout San Diego starting on September 27. As a member-owned, not-for-profit financial cooperative, Mission Federal Credit Union is committed to providing financial services to the San Diego community.
Additional support for Kids Free in October is provided by the California Arts Council, National Endowment for the Arts, the City of San Diego Commission for Arts & Culture, and the County of San Diego Community Enhancement Program. The program is presented in partnership with the San Diego Tourism Authority's Kids Free campaign. To find out about other great family-friendly deals this October, check out their website Kids Free San Diego.