Gaslamp Historical/Architectural Walking Tour
Reservations MUST be made by 11:00 AM FRIDAY. Reservations made after 11:00 am Friday must be confirmed. 
Opening a window to San Diego's past, the Gaslamp Quarter Historical Foundation showcases the history of the Davis-Horton House built in 1850, as well as walking tours of the historic Gaslamp Quarter.  This Walking Tour takes place Saturdays at 11:00 AM starting at the Davis-Horton House at 410 Island Avenue.
The tour is open to the public and takes place rain or shine: NO REFUNDS.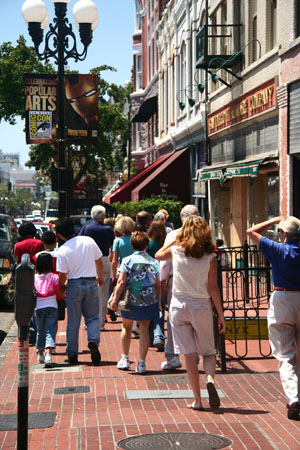 The tour includes architecturally significant structures of the period from Old City Hall (1874) to the Romanesque style Keating Building (1890) to the Baroque Revival Louis Bank of Commerce (1888), along with fascinating stories of the people and characters that shaped the destiny of San Diego,
From William Heath Davis, who first attempted the building of "New Town," to Alonzo Horton who came here in 1867 and finished the job, the cultural heritage of San Diego speaks through the buildings of a by-gone era that stand as testimony to its richness.
The tour takes approximately 90 minutes and includes the Davis-Horton House.
Pricing:
$25 adults; $20 seniors, active military; $15 students, free age 7 and under.
This tour is open to the public but reservations are strongly suggested. Tours cannot be guaranteed without reservation.