The McGurck Block Building, popularly known as the Ferris and Ferris Drugstore Building, was built on the northeast corner of 5th and Market in 1887. Although the original owner, Col. Edward McGurck, acquired the property in 1876 for $50, he elected not to develop it until several years later.
John T. Burkett, architect, designed the building, which is a stately, three story Italianate Revival structure featuring an impressive skylight from the third through to the second floor, segmented arch windows and eleven chimneys used for heating the upstairs rooms. The ground floor housed commercial spaces, while the upper floors served as a hotel. Early maps also indicate the existence of a three story wooden structure behind the building, which probably served as an outhouse.
Throughout the years, this prominent ediface has housed a number of prestigious businesses. In 1893, the Blochman Banking Company opened their offices in the McGurck Building. They listed their offices as "handsome headquarters." Abraham Blochman went on to serve as the French Consul for San Diego for over 30 years, and his son, Lucien, was elected to the City Council in 1897 and 1905.
As the years progressed many of the upstairs rooms became medical and law offices. One notable resident was the pet mynah bird of Dr. Bernard Gildea, who was supposedly one of only three such feathered friends on the Pacific coast.
Perhaps the most notable of all the occupants of the McGurck Building was the Ferris and Ferris Drugstore, which occupied the ground floor from 1903 until 1984. Alda and Claire Ferris were the proprietors of this well known pharmacy, which boasted many innovative features. It was the first drugstore to be open 24 hours a day, the first drugstore to offer home delivery, and the last drugstore to sell live leeches. Don't cringe! These slimy fellows were a necessity in an area frequented by sailors, newly in from long deployments at sea, and looking for a good time before shipping out again. If they were to become involved in fisticuffs after a night of drinking and carousing in the Stingaree, and perhaps sported a black eye or two, they only had to stop at Ferris and Ferris, purchase a few leeches, and by the time they returned to their ship, the black eyes would be neatly taken care of. Thus, they would have no indication of their misbehavior, and would not suffer punishment from their superiors. And, to further expedite a safe return to a ship or base, Ferris and Ferris also served as ticket offices for the Coronado Ferry.
As to the home deliveries, they were usually taken care of by the son of the night pharmacist, Dr. Peck. This young man's name was Eldred, and his after school job was to deliver these medications by bicycle. Dr. Peck had high hopes that his son would follow in his footsteps as a pharmacist. However, young Eldred had other ideas. He wanted to be an actor! So- much to his dear father's dismay, he went to Hollywood, changed his name to his father's first name, and became Gregory Peck. All's well that ends well.
Like most buildings of this era, the outside of the McGurck fared fairly well, but by the latter part of the 20th century, the interior was sorely in need of restoration and renovation. In 1996, it was restored by Zeiden Properties at a cost of $3.4 million. It then housed Z Gallerie, home furnishings. After their departure in 2010, the venue became Seersucker, a trendy restaurant owned and operated by celebrity chef, Brian Malarkey. It continues to proudly preside at 5th and Market, a notable landmark in today's historic Gaslamp Quarter.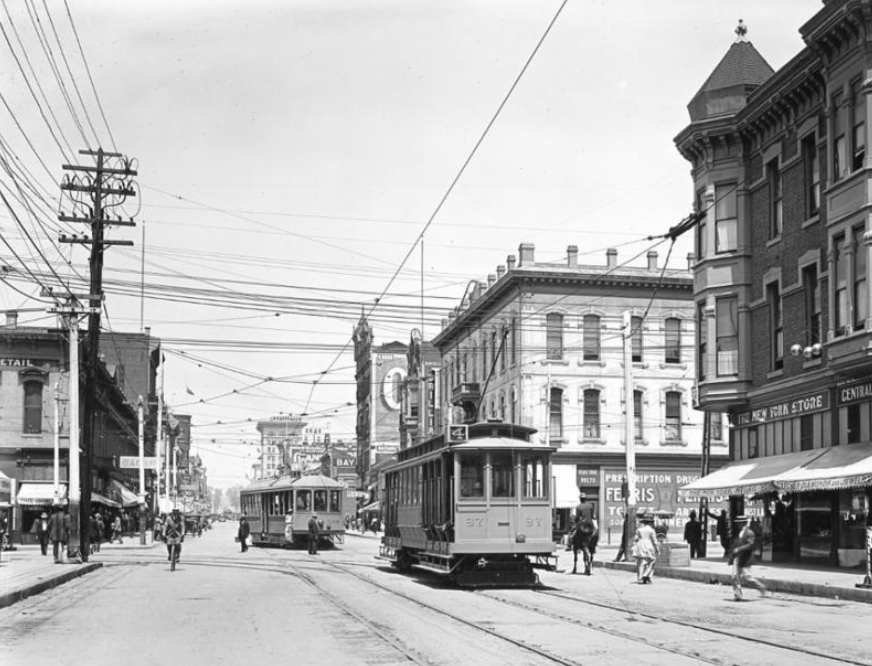 Sandee Wilhoit is the historian for the Gaslamp Quarter Historical Foundation .