720 Fourth Avenue, northwest corner of G Street
Architect : John Lloyd Wright
Prairie Style of Architecture- Modern
As one strolls through the Gaslamp, most notice that although each building has its own unique characteristics, most are basically what can be termed "Victorian." The exception is the Golden West Hotel. It is devoid of the ornate ornamentation, elaborate stained glass windows and columns, cornices and turrets commonly associated with Victorian architecture. Instead, it is relatively modern in appearance, and stresses function, utility, and simple, clean lines with minimal ornamentation.
Although John Lloyd Wright is the architect of record, the Golden West was initially the brainstorm of both noted architect Frank Lloyd Wright and John D. Spreckels, a San Diego pioneer and sugar magnate. Both felt that what was greatly needed was a "working man's hotel." Spreckel's, particularly, needed to house all the workmen, who were laboring on his many projects!After executing a rough architectural rendition of such a structure, Wright turned the project over to his son, who refined the building, which featured the unique flat roof, characteristic of the Prairie Style of Architecture. John Lloyd Wright worked under the supervision of Harrison Albright, a noted architect in his own right, who later designed several projects for Spreckels, including the iconic Spreckel's Organ Pavilion in Balboa Park. Albright's standard of architecture was much more stylized and featured more embellishment. Soon after construction started , Wright went on to Chicago to join his father, and supervised the project by mail and from photographs.
In 1913, construction began on what was to become the first steel reinforced building in San Diego. It was three stories high and featured lightwells straight through to the roof, which in addition to providing light, also provided ventilation. Each room had a window to allow for increased ventilation and fresh air, and most had a sink in the room, with communal bathing facilities on each floor. Steam heating (still in effect) was provided by a boiler on the roof and was further maximized by transoms above each door, which could be opened or closed depending on one's personal preference.
The hotel, which boasted the largest tile floor in the area, had an unusual paging system and indicator board in the spacious lobby, and although no longer in use, is still there. Each room had a numbered peg, which could be turned up or down to indicate if a resident was present, and when a visitor arrived the peg could be activated to buzz upstairs, so the occupant of the particular room knew a visitor was waiting. Rooms now have telephones connecting residents to the main desk.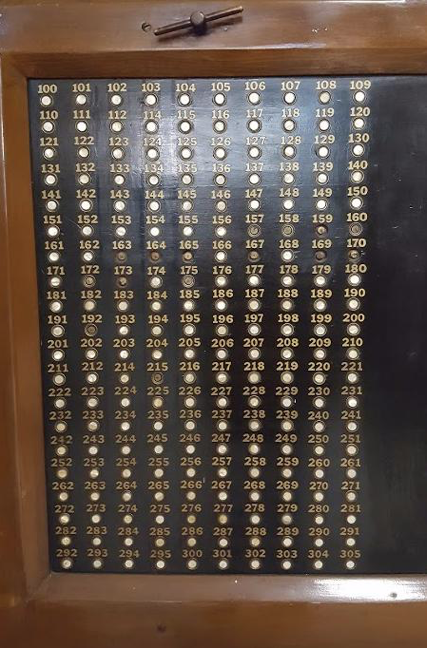 The heart of this residential community is the spacious lobby, which features original Gustav Stickley arts and crafts furniture, which was purchased in a large lot from armed forces suppliers in 1922. Several residents can always be seen relaxing in the ample rocking chairs and high backed easy chairs that have served their purpose well for nearly 100 years.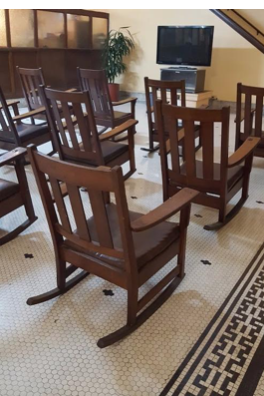 The exterior was serviceable grey concrete with minimal decoration. Originally, the plans called for a running frieze along the roof line, but that was altered, and carved busts of working men's heads adorn each corner. The sculptures were carved in the Italian futuristic mode, and many have noted that one bears a striking resemblance to Elvis Presley! The sculptor, Alfonso Ianelli was an apprentice of Gutzon Borglum, the artist who sculpted Mt. Rushmore. Iannelli later went on to do work for Frank Lloyd Wright in Chicago.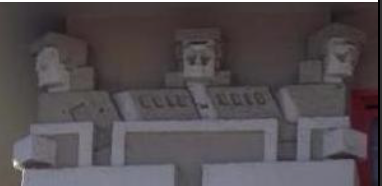 The first residents of the Golden West were workers who were building the Carrizo Gorge Railway. They were followed by the many builders, artisans and horticulturists who created the buildings and grounds for the Panama -California Exposition. Originally named City Park after the expo, we now know this magnificent urban oasis as Balboa Park.
Throughout the years, the Golden West has maintained its integrity as a comfortable, yet affordable place that one can call home, if only for a day, a week, a month or more. Although the rates have increased exponentially from the original cost of 35¢ to 50¢ per day, they are still within the budget of people on a fixed income. The daily rate is $50, weekly rate from $170-175, and monthly rates from $525-540. Recently, a program for homeless veterans has been established. According to Tom Fengler, longtime employee and history buff, veterans have always been a priority for the hotel. He recalled that after WWII ended and all the hotels and every available room in town was rented, the Golden West set up cots in the Fourth Avenue lobby, so our boys could have a place to lay their heads before hopping the earliest train for home and their waiting families.
It is still a welcoming place where one can find a comfortable bed, new friends and a caring staff and community.
Sandee Wilhoit is the Historian for the Gaslamp Quarter Historical Foundation. She can be reached at [email protected]