(Lewis Brick Block)
(1885)
538 Fifth Avenue
Architectural Style: Victorian Commercial
Architect: Unknown
This attractive little building came about through a carefully constructed party wall agreement between its two neighbors, Archibald H. Julian and Max Lowenstein. It came to sit snugly between the Lincoln Hotel and the Lowenstein Building (now known as The Field). A party wall is a shared wall between two separately owned or rented units. They were quite common in San Diego's early days, as Mr. Horton's lots only measured 25' wide, so owners and shopkeepers wanted to be able to use every inch of the space available! Additionally, construction was less expensive when one only had to construct three, or in this case two, walls. The structure was built to serve its proposed tenant, Isador Lewis, a jeweler.
This 25' x 60' building has been used for various commercial operations on the street level, including Joseph Hensley's cigar and tobacco shop from 1887 – 1888, various billiard halls, and even a revival center, the San Diego Lighthouse Revival Center. In more modern times, it was a very popular ice cream parlor called My Yogurt! However, it gained its nickname, the Stingaree Hotel, in reference to the area's reputation as a former red-light district and the reputed use of the upstairs lodging rooms. When the property was restored in 1980, the upstairs ladies were asked to take their business elsewhere!
The two-story rectangular building was constructed of brick with a flat roof and a symmetrical facade. It features horizontal concrete bands forming a stepped brickwork molding strip across the front of the building below the roofline. The ground floor, the retail space, features two recessed entrances on either side of the building. Pilasters separate the decoratively executed windows into three vertical sections. Smaller, horizontal, transom style windows are placed in a row across the top of the ground floor windows and door entrances. These provide the ornamental element dividing the first and second floors.
The second-floor windows consist of two large window sections placed equidistant from each other across the main facade. Each section consists of three smaller windows placed side by side. The double hung sash windows are crowned with a decorative arch that encompasses all three windows. Pilasters are featured along the outer edges of all three windows. They reach the lower edges of the arch thus creating an attractive frame for all three windows. When the building was restored, artful contrasting paintings highlighted the windows and gained an award of excellence for the developers, Will and Nora Hom Newbern. The award cited "outstanding visual contribution and contemporary application of period architecture." The ability to restore, renovate and repurpose the historic structures in the Gaslamp is a nod to their excellent and thoughtful design and construction. They were built to last!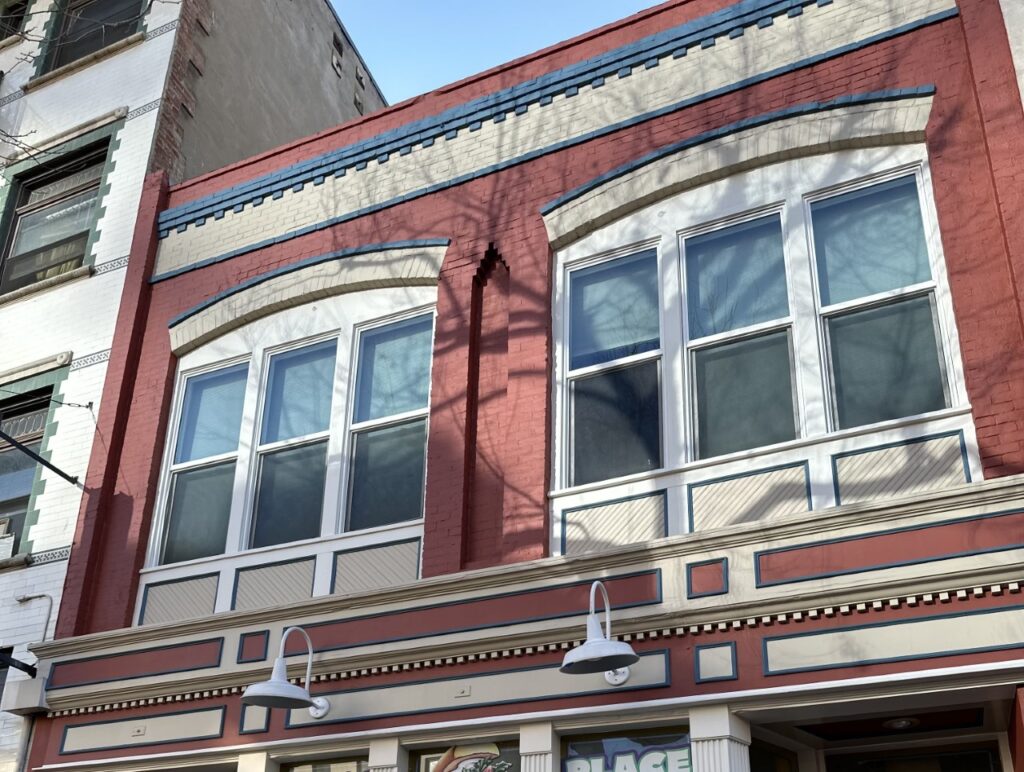 The Lewis Brick Block is now the home of Ike's Place, a sandwich shop featuring huge – and tasty – sandwiches.
Sandee is the Historian/Lead Tour Guide for the Gaslamp Quarter Historical Foundation. She can be reached at [email protected].