Douglas Hotel, Clermont/Coast Hotel, Ideal Hotel & the Crossroads, 1887-1985
As lead tour guide and historian for the Davis-Horton House Museum, I often wondered how the tour guide business got started. I inadvertently found the answer, while researching something entirely different.
Not all Gaslamp "Landmarks" are buildings! San Diego's first tour guide, known from coast to coast, was Reuben Williams, or as he was simply called, "Reuben the Guide."   Reuben was born in Kansas City in1856, but came to California from Cleveland, Ohio in 1864. He originally settled in San Francisco and later migrated south to Los Angeles. During the great boom years of the 1880s, he sensed the excitement surrounding San Diego and arrived here to settle permanently.
Reuben was employed by the National City and Otay Railway in the capacity of guide to the many tourists flocking to San Diego who also wanted to catch a glimpse of the "land of tomorrow" as Tia Juana was called then. And yes – it was called Tia Juana. Reuben, an African-American, was known for his huge sombrero, his five pointed star and his ever-ready smile and accommodating manner. He was a veritable wealth of information, which he readily shared with his guests. Reuben's tours left from the NC & O Railroad Depot located at 536 L Street, the current location of the Hard Rock Hotel.
Reuben suffered for many years with "inflammatory rheumatism" or what is now known as rheumatoid arthritis. His obituary, in a January 1903 edition of the San Diego Record, states that he was stricken with paralysis and never regained consciousness. He died at the County Hospital and was interred at Mount Hope Cemetery. His funeral was very well attended.
Many other African Americans lived and worked in our 19th century boomtown. Today, Petco Park literally sits on top of a historical black community settled by former slaves who migrated West after the Civil War. During the excavation for the stadium, archeologists found pots, jars, combs, spoons and bottles dating to the 1870s, indicative of businesses, including restaurants, saloons, and barbershops.
Although the last governor of California under Mexican rule, Pio Pico, was of African descent, in many instances, blacks were not welcome in many white establishments. In 1887, the historic Clermont Hotel opened its doors to both whites and "people of color" which, in those times, included anyone who was not considered white. This became very important when in 1915, San Diego hosted the Panama-California Exposition, which brought tourists from all over the world to our city. Many were not white and needed places to stay. The Clermont, located at 501 7th Avenue, has an historical designation and still operates as a low-income residential hotel.
More widely known was the Douglas Hotel, which opened in mid-winter of 1924 at 206 Market Street. This two-story square brick building was owned by Robert and Mabel Rowe and George Ramsey, who had previously managed the Ideal Rooms, a large Victorian rooming house at the corner of Market and Second. The building's front facade was plaster over masonry and the double front doors were capped by a neon marquee, which read "the Douglas."  Named for internationally known African-American political leader, Fredrick Douglass, the Douglas provided lodging, a restaurant, card room, barbershop, dry cleaners, billiard rooms, a ballroom, and bellboys.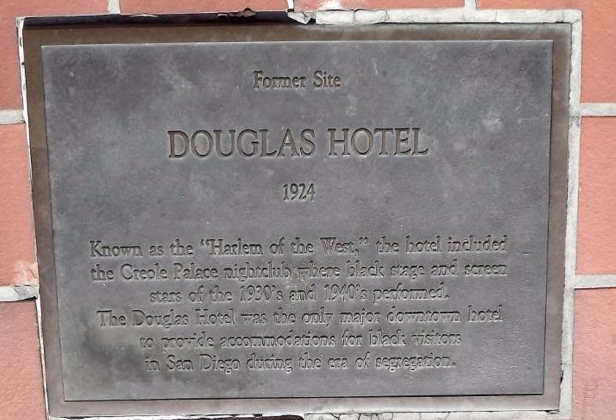 However, its claim to fame was its cabaret, the Creole Palace. The cabaret was an elegant nightclub with its own band and flashily costumed show girls. It regularly booked touring jazz musicians and local entertainers, as well. Notable artists who performed at the Creole Palace were Bessie Smith, Billie Holiday, Count Basie and Nat King Cole. It became known as "the Cotton Club of the West." Froebel Brigham, a gifted, local musician, who performed and managed the Creole Palace for over 20 years, said, "There wasn't another place like it. People came from Los Angeles just to go to the Creole Palace."
The Douglas was sold in 1956, and the once lavish hotel and cabaret became a group residence operated by Alcoholics Anonymous. It was ultimately razed in 1985 to make way for the Market Street Apartments.  Unfortunately, all that remains of this once bustling refuge for blacks during an era of intense segregation, is a plaque marking the site.
That was not the end of Fro Brigham though.  He went on to manage and perform at the International Crossroads Jazz Club, arguably the most famous jazz club in all of San Diego. This was the home of Ella Ruth Piggee, a grand dame of the jazz world. The Crossroads operated until 1984, when it was shut down due to noise abatement complaints from the emerging Gaslamp District.  A Starbucks now occupies that space at 345 Market Street.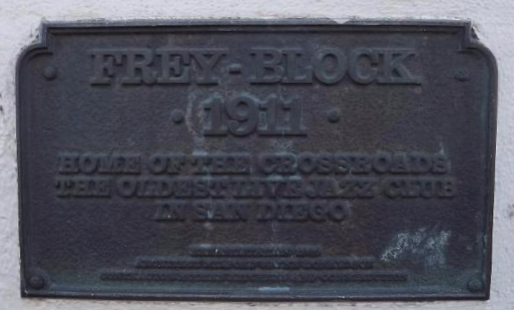 Less well known, but still standing is the Ideal Hotel at 540 Third Avenue. This hotel was built in 1912 in anticipation of the Panama-California Exposition, and was opened specifically for people of color. It was operated and eventually owned by Joe Robison, an African-American man who ran a billiard parlor and men's locker room on the first floor. The building also housed one of San Diego's first Chinese restaurants, making the Ideal a meeting place for diverse cultures and ethnicities. The structure is now run as a hostel.
As the Gaslamp evolved into an international tourist mecca, and tours and tour guides became an integral feature of the tourist industry, Reuben the Guide, wherever he is, must still be smiling his trademark grin.