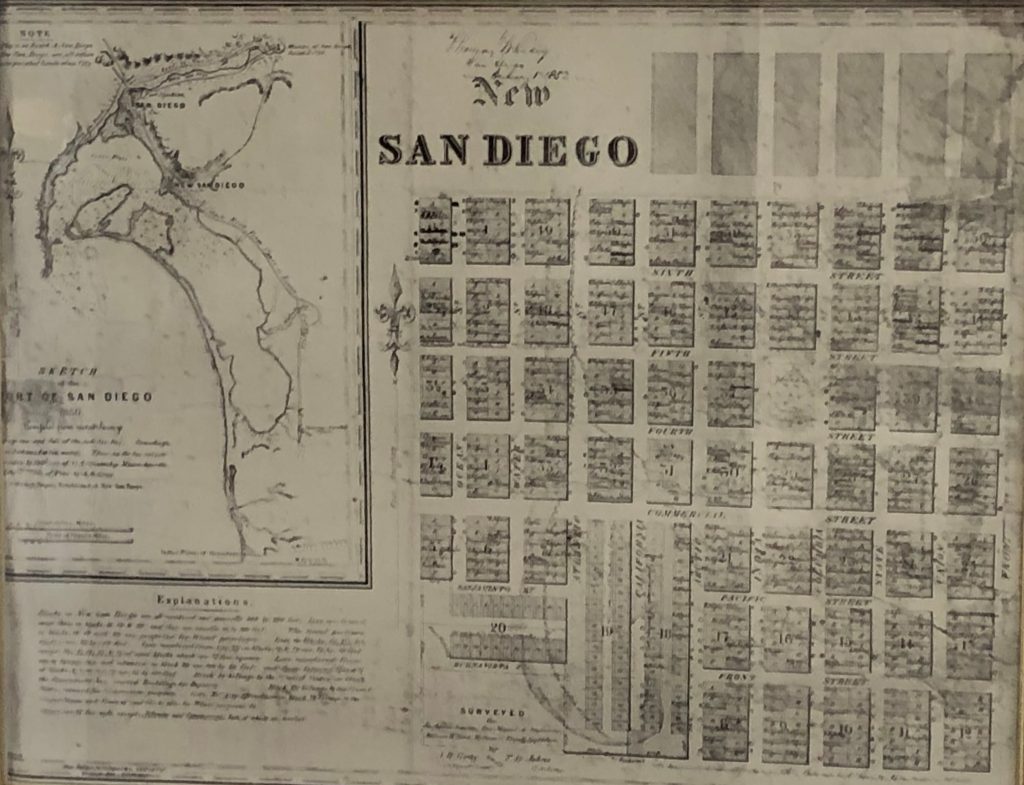 New Town initially thrived. Davis completed his wharf at the foot of Market Street. It was 600 feet long and L-shaped. Goods that were unloaded from the ships were then transported by pack or wagon train to Fort Tejon, Fort Yuma, Fort Mohave, San Luis Rey, Chino, Santa Isabel and San Bernadino. A supply building, later used as enlisted Army barracks, was also constructed, using wood brought around Cape Horn by Davis. The building was two and a half stories in height, with a veranda on two sides. It was topped by a lookout and a flagpole. Next to it, a cistern was built to catch rainwater. The troops used the block bounded by F, G, Union and State Streets as a corral for their horses. All in all, Davis spent between $60,000 and $80,000 for both projects. Captain Nathaniel Lyon was the quartermaster in charge of the construction.
As an incentive for the Army to always remain in New Town, Davis and his partners also donated 2 and 1/2 full blocks of land to the government. The value of this land was later placed at $20,000. Several Army officers, most notably future generals Nathanial Lyon and John Bankhead Magruder lived in New Town.
Water was hauled in daily by mule train from the San Diego River near Old Town. Additionally, cisterns were built to catch rain water. The first successful well was sunk at Front and B Streets, followed soon after by another well at State and F Streets.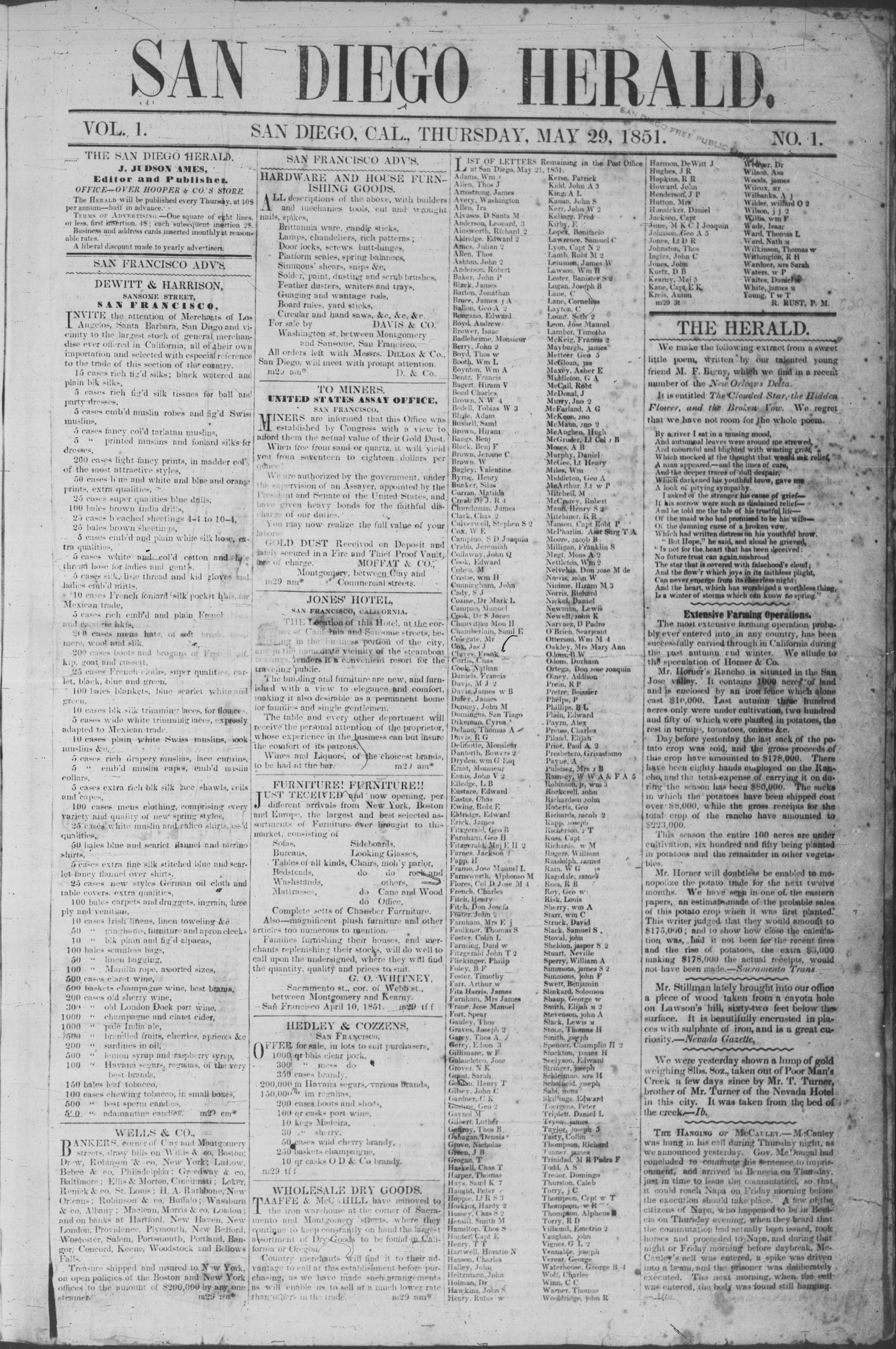 The first store was built by George Cooper at G and California Streets. Above the store, the first San Diego newspaper, the San Diego Herald, was published on August 29, 1851 by editor John Judson Ames, newly arrived from Boston. The newspaper, which was a 4-page, 4 column weekly, was published 12 days after the the LA Star, which was southern California's first newspaper. The paper increased to 5 columns in 1853 and increased again the following year to 6 columns. It published its last issue in 1860.
There were three other small stores and a lumberyard.
William Heath Davis stated ,"The first building in New San Diego was put up by myself, as a private residence." This building, the Davis residence located on State and F Streets, was to eventually become known as the Dunnells Hotel and the San Diego Hotel. It was also one of the pre-fabricated houses houses from Portland, Maine that Davis purchased to start his New Town.
After Davis retreated back to San Francisco after the failure of New Town, the home was used as a rental or boarding house. When Alonzo Horton came to San Diego in 1867, he found the building and noted that it , "was braced up to keep it from falling down." He bought the building from Davis for $100. After reconstructing the building, Horton then said, "A man named Dunnells came to me to ask about the chance of starting a hotel in San Diego…and I wanted to get a hotel started…so I sold it to him, with the lot, for $1,000." Dunnells then remodeled the property, and started running it as the New San Diego Hotel in 1868.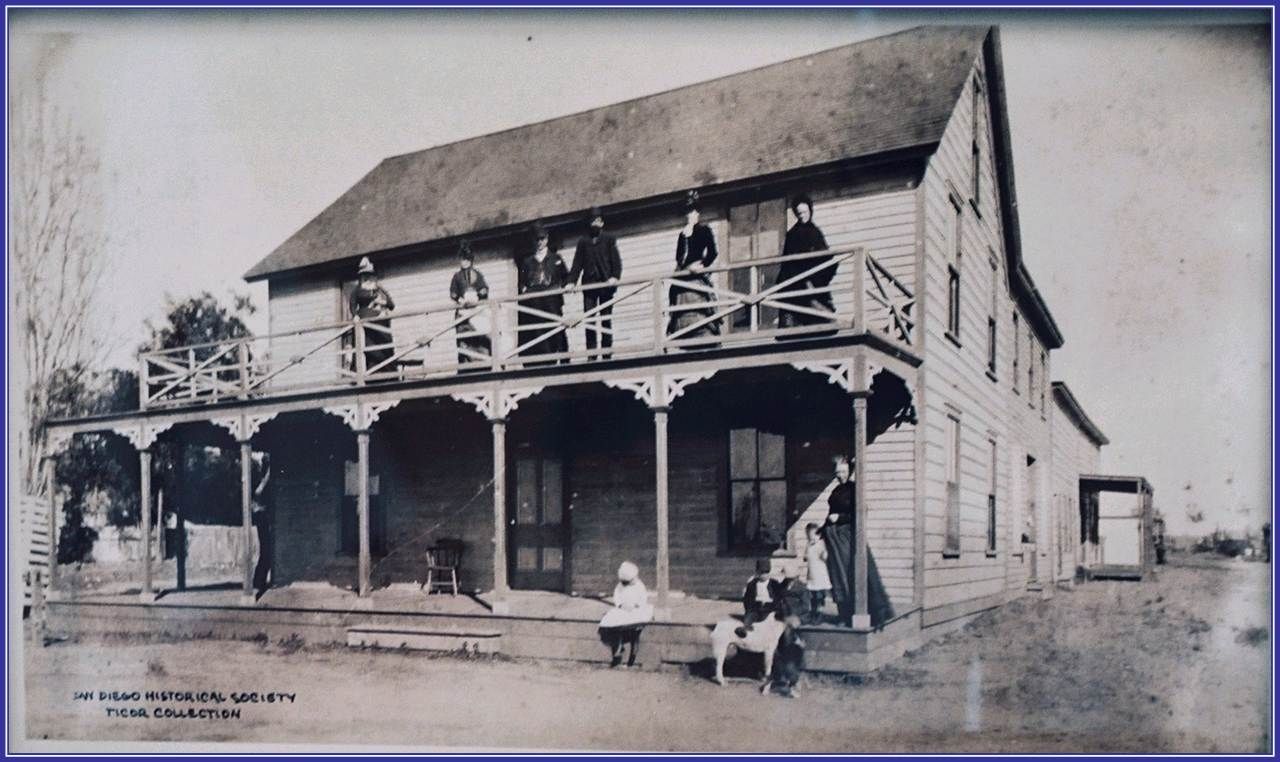 The San Diego Union, on October 17, 1868, described the hotel as " a splendid, new and first-class Hotel with new furniture throughout. It is a two-story frame building with a piazza extending partly around and it is one of San Diego's palatial structures." Dunnells also bought several other properties from Horton, including the site of the San Diego Hardware building.
Captain Samuel Sumner Dunnells came to San Diego in 1850 and became San Diego's first harbor pilot. After Davis' departure, he returned to Belfast, Maine and married Hannah Elizabeth Moore on November 18, 1857. Together they had two children before coming west again, where Capt. Dunnells resumed his seafaring career. On September 10, 1870, he sailed his 105-ton sternwheel steamer, the SS Vacquero, into a Pacific inlet south of Long Beach. He was carrying a cargo of 15,000 shingles and 5,000 feet of lumber from San Diego, and he was looking for a new port. Against posted warnings by surveyors, he safely steered his ship into the bay and unloaded his cargo. He then proceeded to build a small wharf, and named the port, New Port Landing (now Newport).
Captain Samuel S. Dunnells, a San Diego pioneer, died at his home, 2032 Fourth Street, on December 19, 1903, and is buried at Greenwood Memorial Park.
Andrew Gray built a residence, named the Hermitage between State and I (now Island) Streets. When Gray left the area in 1851, the residence became the Hermitage Hotel.
The first park, New Town Plaza (later Pantoja Park) was dedicated by William Heath Davis, and improved by Dr. Thomas C. Stockton. Dr. Stockton, the third doctor in New Town, paid $10 to have the park block leveled and plowed so that ornamental trees could be planted.
For entertainment, there was saloon listed as "a resort for gentlemen." It was called the Pantoja House and boasted a billiard saloon furnished with a celebrated Winant's table ( from New York) and gaslit every night until midnight. It also promised sparkling champagne, Byass's London ale, porter and several brands of Havana cigars. It was observed that although water was scarce, there was no reason for anyone to be thirsty!
In 1852, New Town's charter as a separate city was repealed and the local treasury was raided by unscrupulous officials. By 1853, both New Town and nearby La Playa (Point Loma) failed. Davis's promising New Town was now known as "Davis's Folly."