The beautiful Horton Grand Hotel, a Gaslamp landmark, was originally two Victorian hotels: the Grand Hotel and the Brooklyn Hotel. Both were built in the early 1880s and located on F Street.
In 1907, the Grand was renamed the Horton Hotel and the Brooklyn was later renamed the Brooks-Kahle Saddlery, as a popular saddlery was located on the bottom level.
The saddlery remained in operation until 1960, as it's operators claimed as prominent clients both Roy Rogers and Tom Mix.
Both hotels were scheduled for demolition in the late 1970s but rescued by developer Dan Pearson, who had the structures painstakingly dismantled, catalogued piece-by-piece and stored in warehouses until they could be rebuilt in 1984 at the present location, 311 Island Ave.
The total cost for the deconstruction, storage and restoration was $12 million. San Diego Architect Wayne Donaldson, a historic preservation specialist, was responsible for the restoration, joining the two hotels with a common atrium.
As you face the hotel standing on Island Avenue, the building on the left, the original Grand Hotel, is an ornate Italian Baroque Revival structure, built by a German immigrant to replicate the Innsbrook Hotel in Vienna, Austria.
The two upper floors were always used as hotel accommodations and were built around an interior skylight and stairwell, forming a central court from which the rooms were reached. The lower floors were used for commercial purposes, a customary practice at the time. These businesses included a restaurant and a "beer parlor."
The hotel on the right, the original Brooklyn Hotel, is a much less ornate structure along the lines of Victorian Americana. In the lobby is an antique paper machè horse named Sunshine, a fixture of the edifice when the saddlery occupied that space.
Sunshine's mane and tail were created from the curried manes of police horses. This hotel was also the home of Wyatt and Josie Earp for seven years when they lived in San Diego. The structures are joined by an atrium with a center fountain and lavish wicker seating.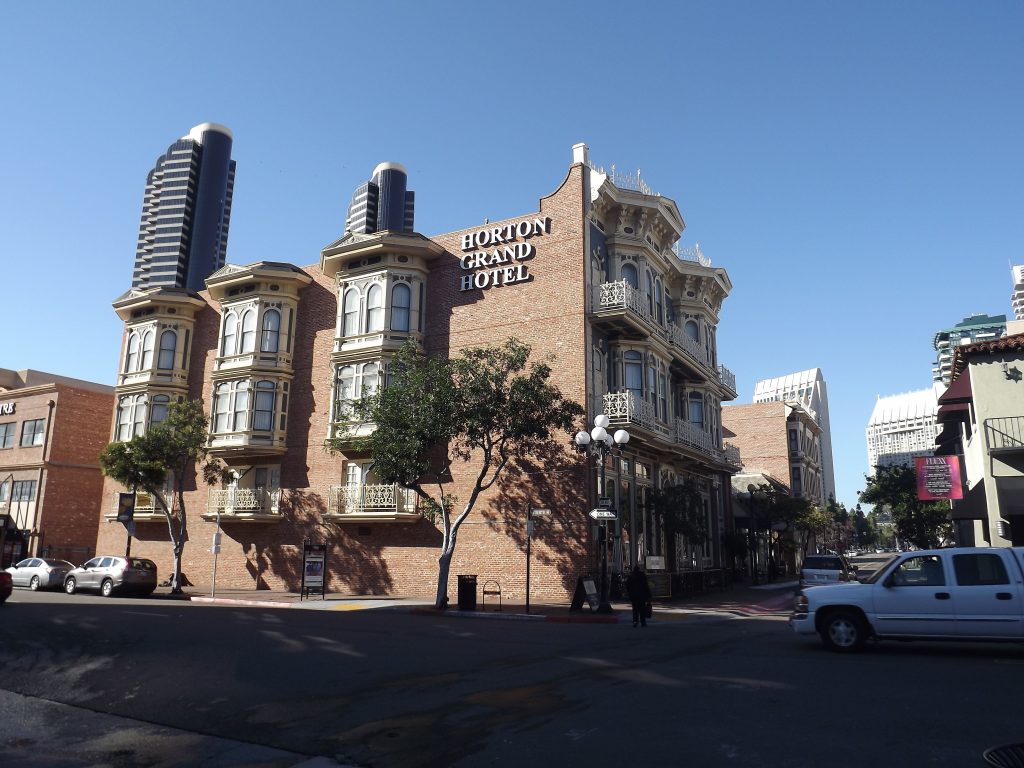 The Horton Grand opened its doors in 1986 and is now a world-class hotel, which boasts as guests movie stars, sports and political figures, and even a president; Benjamin Harrison.