Marston Building, 1881
548 C Street
Architects: Stewart Brothers
Style – Italianate Victorian
Whitney Department Store Building, 1923 and 1936
914-924 6th Avenue
Architect: F.W. Stevenson
Modern Linear Design
It's the holiday season! Time for feasting, caroling, and yes, shopping. For our Victorian ancestors buying a gift for a special loved one was also a part of the holiday season, although shopping was not done on such an elaborate or commercialized scale as it is now.
Several notable shopping emporiums stand out in San Diego's early history, none more so than Marston's. As it did not close its hallowed doors until 1961, many of us may still remember being taken "downtown," dressed in our Sunday best, to shop at Marston's and enjoy the elegant atmosphere of San Diego's finest department store.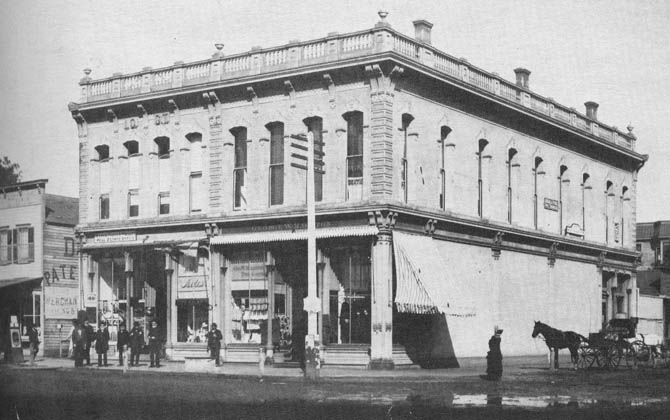 George White Marston arrived in San Diego in 1870 at the age of 20. At the time, San Diego was not particularly inviting as it had no paved streets, a scant water supply and no railroad. However, enterprising young Marston immediately went to work at the Horton House Hotel (current site of the U.S. Grant Hotel) as a clerk/bookkeeper. He stayed at this position for approximately one year, and then went to work at the A. Parley and Sons General Store at the foot of 5th Avenue, where he stayed for five years.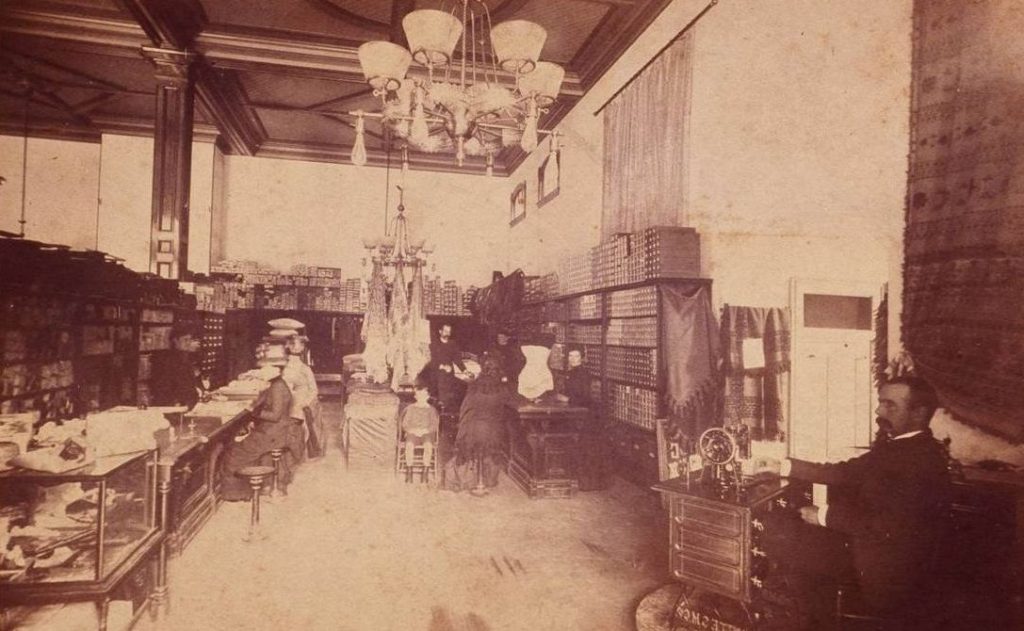 At Parley's, he went on to form a partnership with a co-worker, Charles Hamilton. They opened a general store stocked with groceries, dry goods and clothing. The partnership was dissolved in 1878 with Hamilton keeping the grocery and produce part of the business, and Marston opening a clothing and dry goods store located at Fifth Avenue between G and H Streets.( now Market St.). In 1881 Marston expanded his store to 509 Fifth Avenue, where he constructed a two-story building, which was described as " a credit to San Diego's future" by the San Diego Union. The Golden Era magazine carried an ad that proclaimed Marston's as the "leading dry goods house of San Diego." Ultimately Marston's moved to Fifth and C Street, with the construction of a large neo-Renaissance business block costing $60,000. Marston's was always known as an elegant shopping experience with the comfort and convenience of its patrons foremost. Fresh flowers were in abundance throughout the store, and Marston's had one of the first telephone's in San Diego. It also featured a library room on the upper floor stocked with the latest fashion magazines, so that shoppers could find a quiet place to rest before taking their lunch in the fancy tea room. Ever egalitarian, Marston paid both men and women equal pay for equal work.
For those with more modest tastes and means, Whitney and Company provided a ready alternative. In 1905, Guilford H. Whitney, Sr. operated his limited-price variety store in a modest storefront on Fifth Avenue between F and G Streets. In 1918, Mr. Whitney moved his store to 6th Avenue between Broadway and E Street, where the size was quadrupled. Over the years, it continued to grow in this location, Lots I and J, Block 44 of "Horton's Addition". Mr. Guilford and his son, G.H. Guilford, Jr. built another story to the two-story building and added several glass display windows. The name Whitney and Company was written in modern style Roman lettering between the second and third stories, and the windows were framed in black tiles. A narrow row of green tiles crowned the main doorway. The flat roofline was highlighted by simple ornamental column heads. In 1923, Whitney purchased an adjoining lot, and commissioned Arthur Keyes to erect an additional building to mimic the adjoining Whitney buildings. Unfortunately, in October of 1936, Whitney's burned to the ground in what was described in the San Diego Union as the largest known fire in San Diego's history.
Mr. Whitney promptly rebuilt, hiring architect, F.W Stevenson, to design the new building. The design was modern and very linear, featuring 17 ridged columns. Between all the columns, which circled the sides of the building, were glass windows, providing maximum display opportunities. The new store opened in December of 1936.
Whitney's operated as a "5-10-15¢ store" until 1965, when it was demolished to make way for an ACE parking lot. The remaining "branch stores" were sold to Walker Scott in 1968, and Mr. Guilford, Jr. died the same year.
Museum member, Betty Robinson, who was born at home on Kurtz Street in 1931, recently shared her memories of shopping at Whitney's with her Mom. Betty said she was so short she could hardly see above the rows and rows of counters filled with treasures, but she came back later as a teenager. One could always find a good buy at Whitney's!
Gone but not forgotten – the old shopping emporiums of San Diego – reminders of a simpler, and definitely less-expensive Christmas shopping season!
Sandee is the historian for the Gaslamp Quarter Historical Foundation. She can be reaches at [email protected].